When I first started homeschooling, I had no idea what a homeschool day was supposed to look like. I spent my entire life from preschool through college in traditional classrooms, so I was only really familiar with school schedules. But when you're homeschooling, you have an opportunity to tailor the learning environment to your unique children.
I've been homeschooling my son for almost three years now, and in that time we've learned a lot about what does and doesn't work for us. I'm going to share our typical homeschool day with you, our past failures and why they didn't work for us, and some strategies that work for us right now.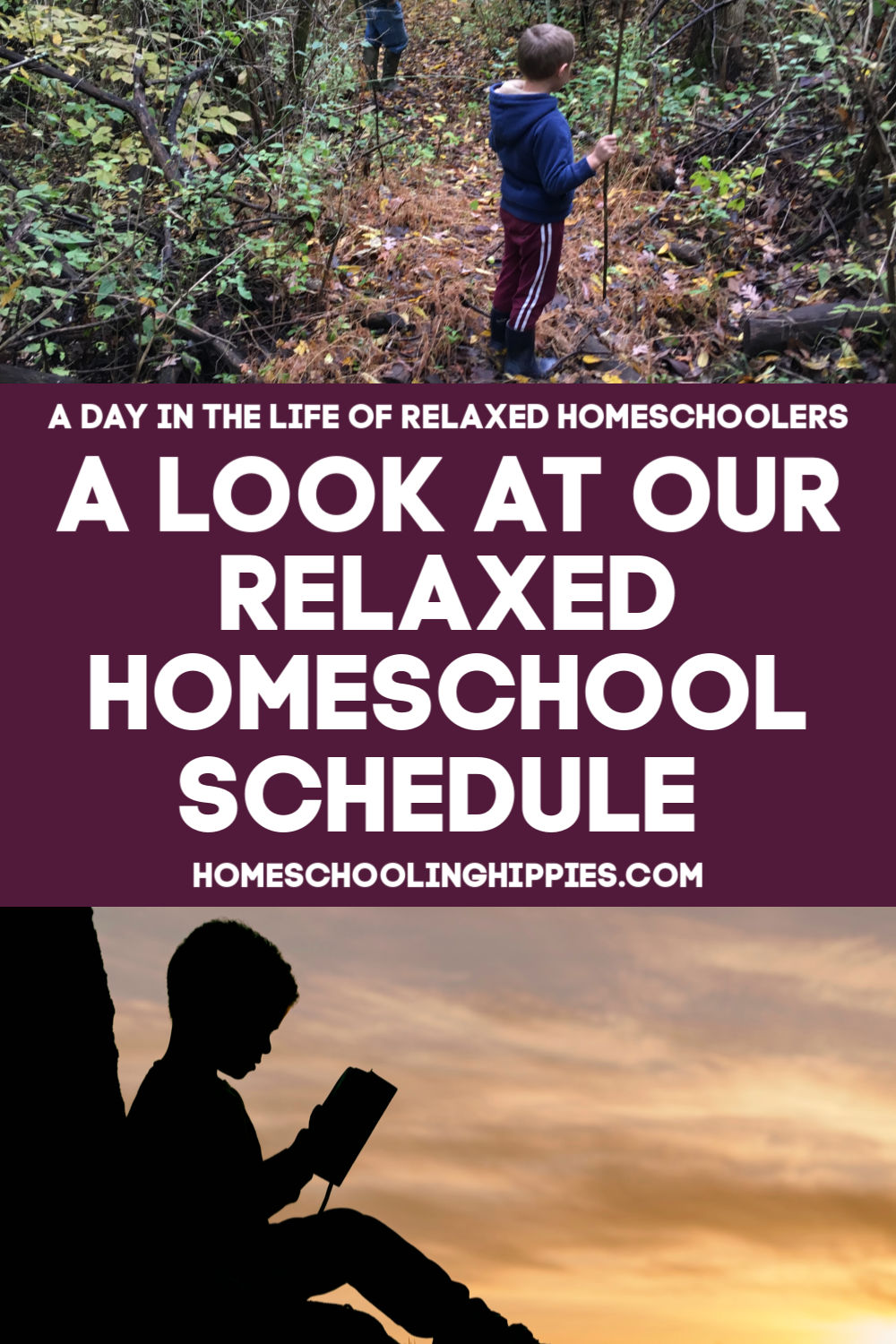 Some background on our homeschool
Before homeschooling, I was a music teacher for nearly ten years. I received my Bachelor and Master of Music Education degrees, and primarily taught high schoolers (and middle schoolers when I was student teaching) in a standard school setting.
I left my teaching job to work from home while homeschooling our son when he was four years old. Prior to that, he had attended preschool in his daycare with a small class of kids. He is 6 now and would be in Kindergarten if he attended public school (based on his late summer birthday). He works on a first-grade level for most traditional subjects but is free to pursue his interests regardless of level.
Though I only have one child, I learned these ways to create our routine from homeschool mentors with 5 or more children. So as you read, there might be some things that are only-child or little-kid centric, but know that you can find ways to apply them to larger families and other age groups.
You can read all about how we got into homeschooling after my years as a classroom teacher here. 
How your unique child(ren) will impact your routine
My child is incredibly strong-willed. If he doesn't want to do something or doesn't see the value in it he will try everything to get out of it. When school is imposed in an arbitrary schedule, he rebels. He's a quick learner and remembers everything (his memory of the past is astounding sometimes) but he sees right through "busy work". He has no interest in sitting still to do desk work and prefers to use his mind to solve real-life problems.
In other words, he's very different than I was as a child. I created worksheets for fun and played school all the time! I was content to sit still at the table for hours on end doing seatwork. The "busy work" that bothers my son was never an issue for me. You could have given me a random school schedule and I probably would have just accepted it.
Your child's temperament will impact what works best for you. If your child needs the set timing and structure of a school day, work together to create your own. If your child thrives on flexibility, do that. The great thing about homeschool is the ability to do what works best for your individual kids.
Our Relaxed Homeschool Routine 
We have a "routine" and not a strict schedule. Why? Because learning happens at all hours of the day. A routine can flex to account for different learning activities and family priorities.
Timed schedules sometimes limit learning, so we tend not to use them. For example, if we're working on a math concept and he really wants to keep going, it wouldn't serve him to say, "No, we have to stop learning this math you're interested in because the schedule says it's reading time now." Instead, we keep going until we reach a natural stopping point.
Our day is naturally broken into different blocks that consist of different activities. Times are approximate and the sequence varies. 
Morning Time (7:00-12:00)
Wake Up
Breakfast
Play
Homeschool Co-Op Group (Spring/Summer/Fall)
Library Programs
Museum/Zoo/other community activities
Anything that looks like "school"
I'm a big believer in sleep. We all typically wake up between 6:00-7:00 and have breakfast together, but unless we have an early appointment I don't set alarms anymore. When my son lacks sleep, he gets hostile. When I lack sleep, I get sick. No one needs that right now, so our mornings are loose.
After breakfast, we play.
Some homeschool families like to do a "morning basket" of activities to get the day going. Others dive right into formal studies. I tried this for a while and my teacher side REALLY wanted it to work for us. But at this age and for his temperament it just didn't work. We would fight and accomplish nothing. Then I realized the value of letting him play. 
I realized he has a hard time jumping right into formal academics without some full-body playtime first. So we go outside, let the dog run around, and play. He'll run, jump, play in the mud, go to his clubhouse, create games, or play pretend. He's an only child, so I often get in on the play too.
Once he's played, we'll do more "formal" learning.
I don't buy full formal curriculums as they haven't been particularly effective for my child. Perhaps they will as he gets older, or perhaps they won't. They are quite effective for other families! I have a few workbooks that I use when we need them. If nothing else, I use them as a guide for me to know what skills he could be working on, but I don't let them dictate our day.
Resources he enjoys during this time include:
In the warmer months, we have a homeschool co-op group that meets once a week at local parks from 10:00-12:00. In the winter, we shift it to the afternoons. The kids have free play, and the adults take turns organizing fun learning activities. We take hikes, do science experiments, create art, and much more. This is when he gets in some of that socialization that people seem so worried that homeschoolers miss out on. 
Library programs for homeschoolers at our favorite branch are usually at 11:00 am. And yes, as a homeschooler you will probably frequent all the libraries and have a favorite branch. Other branches have programs at different times, and we try to attend the ones that spark his interest.
We also go out to fun places in our area in the mornings while we still have energy. We have memberships to the zoo and the museum center near us, but we also find lots of fun free things to do at local parks, arboretums, and more.
The Afternoon (12:00-5:00)
Co-Op (Winter session)
Library Programs
Anything that looks like "school"
Interest-led "deep dives"
Free play, outside time
We typically eat lunch around 11:00-12:00. Sometimes if we get involved in a big project we might eat a little later, but not often. We keep lunch relaxed and either watch something on PBSKids, listen to a podcast or audiobook, or just have nice conversations.
From 1:00-3:00 in the wintertime we have our homeschool co-op indoors. Again, the kids get time to free play and the adults take turns leading activities. We've done a music unit, map making, escape rooms, scavenger hunts, recycled art, and much more.
The afternoon often finds us in "interest-led deep dives". This is where we explore his passions by asking questions and seeking answers. For example, my son LOVES chemistry and the periodic table (thanks to a game called Toca Lab). We once spent an entire afternoon looking up everything we could find about his favorite elements (cesium and barium).
He practiced handwriting (an activity he otherwise hates) of his own accord by recreating those elements as they appear on the table. He even drew the electron shell diagrams because he saw them on the info pages. Does he understand all the heavy chemistry concepts yet? No, but seeds are being planted and he's practicing skills he needs to be successful right now (i.e. handwriting, spelling, fine-motor skills).
Related: Yes, your child will learn without forcing them. Here's why you can stop worrying. 
Evening Time (5:00-8:00)
Karate classes
Dinner
Clean-up
Family read-aloud time
Karate lessons are 2-3 nights a week between 5:00-6:20 (times vary by the day). One of our core family values is not overscheduling ourselves. As a high school teacher, I saw so many kids participating in all the sports, clubs, and volunteer activities. Those kids were so exhausted and stressed out. We want to avoid that, so our son picked ONE thing that really interests him.
Karate has been an excellent opportunity for him to make new friends while learning important skills and values. It's also provided more "interest-led deep dives".  My son recently asked, "Mom, how did karate get started?" So we did some research together! We found fascinating books and websites that talked about this history and evolution of martial arts. That led us to learn about the decline of the samurai and the Meiji Restoration in Japan. We watched videos about martial arts around the world and found those countries on a map.
Learning opportunities abound if you're open to them. 
Clean-up, bathtime, and read-aloud start around 7:00.
We read at other times of the day too, but our cuddled-up family read-aloud time happens through bathtime and brushing teeth. Then we'll finish reading in bed until our son is good and tired. It's a great way to bond as a family!
If you need book suggestions or read-aloud encouragement, I highly suggest checking out Sarah Mackenzie over at Read-Aloud Revival.
Bedtime is around 8:00.
Sometimes it's 8:30 if the book is really good. Sometimes it's 9:00 or later if we were out at one of my husband's university concerts or spending time away with family.
Related: How I went from being a school teacher to loving relaxed homeschooling
___________
Creating your optimal homeschool day is possible!
You can see how we've made it work for us. Use some of our ideas to start creating your own routines! If something doesn't work, that's okay! Try new things until you find something that works for you and your family.
You can sign up below to get access to a free schedule sample and template to start making your own:
Ready to learn more? Click here to learn all about getting started with homeschooling. Be sure to follow along for more homeschooling goodness on Instagram, Facebook, and Pinterest. I look forward to seeing you there!