There are so many programs and resources out there that it can be overwhelming for homeschool parents to figure out. I've taken some time to sift through the options to list out my absolute favorite ones. You'll find my favorites of the following:
Free Online Curriculums
Paid Online Programs
Podcasts
Favorite Books
A note on curriculums: you don't actually NEED a curriculum to homeschool. At least, not most of the time. There are some states that require you to show what resources you're using or to list a specific curriculum. Check your state to be sure.
Curriculum guides can be helpful when you're starting out to get your bearings straight. For some parents, curriculums take out the overwhelm of constantly curating resources for their kids.
If you're a "strict" unschooler or relaxed homeschooler, you may be thinking, "you can't really be unschooling/relaxed if you use a curriculum!" But I think they're worth looking at for ideas even if you don't follow them strictly. I've listed my favorite FREE curriculums below. Use them however you like!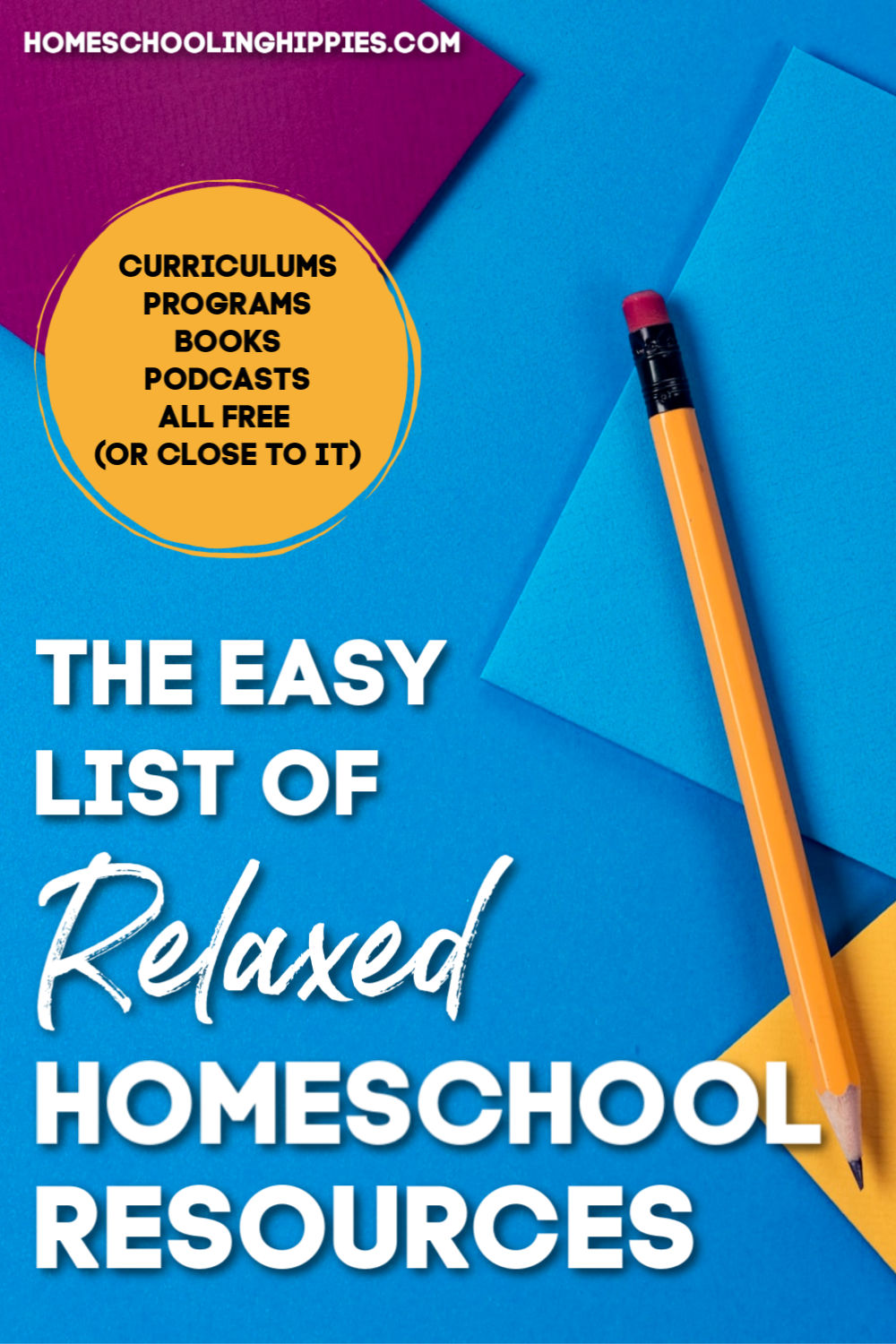 Free Online Curriculums
Easy Peasy All In One Homeschool – "A complete, free, online, Christian homeschool curriculum"; K-12, a great starting place when you don't know what to choose or need general guidelines for what skills and topics to cover. The general curriculum can be used in a secular way, though religious resources are available. You are free to pick and choose what materials you use and how.
Ambleside Online – A complete Charlotte Mason curriculum, including easy-to-read yearly overviews, book lists, activity ideas, and more. Charlotte Mason advocated that the child is a whole person, not simply a vessel to be filled. Studies in the CM traditional are rooted in "living books", nature studies, handicrafts, and a rich connection to culture and history.
Mater Amabilis – PreK-12th, a Catholic Charlotte Mason program similar to Ambleside Online.
Khan Academy – Online video-based courses for K-12. They include a HUGE variety of courses, including Advanced Placement classes. Courses are high-quality and very engaging!
CK-12 – books, lessons, and videos; similar to Khan Academy with more reading
Core Knowledge – K-8, complete lesson plans in a variety of domains and subject areas. Most similar to the lesson plans you might see in a school setting.
Freedom Homeschooling – Aggregate site linking to tons of free programs, including Khan Academy and others. If you want to see a large selection of online programs, this is a great listing site.
Favorite Paid Programs
ABCMouse.com – Ages 4-8, our son has used this program for over two years now and LOVES it. Wait for their 60% off holiday sales to get a great deal on a yearly subscription.
Prodigies Music – I have degrees in Music Education and simply LOVE how well put together this program is. My son loves watching the videos and performing the songs along with Mr. Rob. Best for preschool/early grades.
Brave Writer – Homeschool writing curriculum geared towards developing the unique writing voice in each child no matter what age level. Relaxed programs and classes for all grades!
Favorite Homeschool Podcasts
The Brave Learner with Julie Bogart
Honey! I'm Homeschooling the Kids
Favorite Relaxed Homeschool Books
The Brave Learner by Julie Bogart
Teaching From Rest by Sarah Mackenzie
Call of the Wild and Free by Ainsley Arment
Homeschool Gone Wild by Karla Marie Williams
Ready to learn more? Click here to learn all about getting started with homeschooling. Be sure to follow along for more homeschooling goodness on Instagram, Facebook, and Pinterest. And be sure to subscribe below for homeschool encouragement plus access to our resource library. I look forward to seeing you there!
The form you have selected does not exist.