Note: This post was published at the start of the pandemic. Much of the information here will apply to new homeschool parents who are choosing this path, but will also speak to parents struggling to "school at home".
If you're suddenly homeschooling because your school is closed or if you are relatively new to it by choice, there's no doubt that it can be a difficult adjustment from traditional schooling. You might be struggling to find a routine that works for you. Or maybe you're constantly fighting with your kids to get school work done. Why is this? And what can you do as a new homeschool parent to feel more confident right now?
There are a few common worries you might have as a new homeschooler. I felt all of them too! You're not alone. Here's how we worked it out.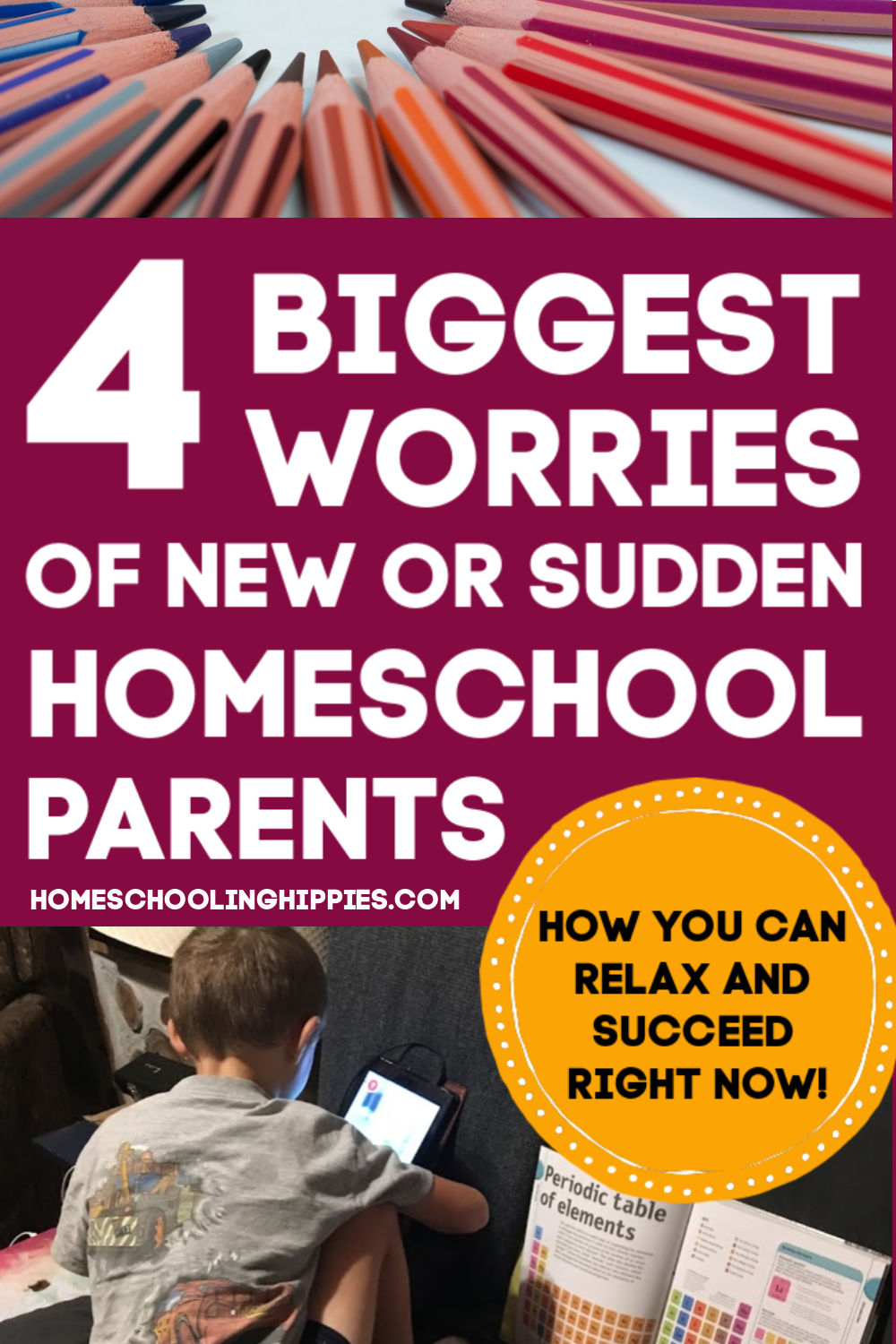 When we first started homeschooling, my son was technically still in preschool. Even though I knew that preschoolers learn through play, we were constantly butting heads because I was still in a "schoolish" mindset. I had workbooks and lists of standards he should meet to be "kindergarten ready". I felt immense pressure to make sure he was learning, or even to prove that homeschooling works, so I was creating tension in our house because I didn't realize one critical thing:
Home and school are very different.
They shouldn't be treated the same way. Home is the place where you get to relax and be yourself! It's where you get to wear your ugly comfy pants (or NO pants, if we're honest). It's where you can go to the bathroom whenever you want without asking permission.
But if you're like I was before I started homeschooling, regular school is the only thing you know. And if that's the case, you might be frustrated with your experiences of trying to recreate "school at home".
Maybe "school at home" looks like a schedule dictated by times like school classes are. Subjects are all in their own box. The curriculum is either not your choice or not optimal. "Time on task" is critical and anything that looks like "goofing off" is discouraged. Students must sit at a desk to do their lessons and finish everything before they can do "fun" stuff.
But learning doesn't only happen in a school setting.
It happens everywhere if you embrace it, and home is a wonderful place to learn!
I saw a comment recently on Facebook that said, "Homeschooling has to be the worst of both worlds. Teachers and parents wear different hats!" They're right about wearing different hats; that's why successful homeschooling doesn't generally look like school. We take the best parts of home and the best parts of learning and marry them together.
So how can you make learning happen at home without everyone crying? If you're a sudden homeschooler in crisis, how can you make sure your child actually gets the work done for their teachers without having to hover over them all day? Or what if you have to work from home while homeschooling too? What if you feel unqualified to teach your child because you don't have an education background?
Never fear, friend. Let's break it down.
Four Worries of New Homeschool Parents
1. How can I make sure my child is actually learning without us fighting and crying?
Whether you chose this path or had it forced on you, it's hard. It's okay to admit it!
You may be daunted because the current crisis has sent your students home to be with you. Many of you are trying to work from home while managing the at-home instruction your teachers have sent for you. Or perhaps you're in a district that purposefully mandated NO home instruction and you're left with nothing and wondering what to do with your kids.
If you have NO resources, get started with this list here.
For crisis homeschoolers, you didn't choose this lifestyle. You didn't have time to plan or think about what homeschool style suits you best. Heck, you probably didn't know there were different homeschool styles to choose from, like Classical, Charlotte Mason, or Unschooling. No, you were thrown into the fire in the middle of one of the worst crises we've seen in our lifetime. That isn't fair to you. You're stressed, your kids are stressed, and no one knows what will happen next. So what's the best way to make sure they're learning?
Just love your kids.
Kids are wired to learn from anything and everything, even if you don't see the value in it. But kids can't learn when their brains are operating in the limbic "fight, flight, or freeze" mode that this crisis perpetuates. Both children and adults feel this. If you try to force them to sit there for several hours of "learning" when their brains aren't ready, no learning will actually happen. It's the same as when you're upset and then try to do office work. Nothing productive happens, right?
That's okay. Give yourself some grace.
Maybe you have work packets or assignments they must complete from home. If that stresses you out, I empathize. That would stress me out too! By all means, do the best you can. Your teachers need your cooperation to make the most of this situation. But please don't let it become a daily fight that tears apart your precious family relationships. When your children are grown, it won't matter what grade they got on the vocab packet during the quarantine. Your relationship will.
Related: Partnering with your child to make a relaxed learning schedule
You're allowed to cuddle up, read books aloud together, listen to podcasts, play games, or take a walk (socially distanced, of course). Let them play and explore their curiosities. But don't raise your expectations. This is uncharted territory for all of us! Even us homeschool parents are stressed out because we suddenly can't go out and do the activities we're used to. This isn't what homeschooling typically looks like.
If your child feels loved and safe, learning will happen.
They will not "fall behind" academically. In fact, wiring their brains with love and security will set them up for even greater success when they DO return to school. All kids are in this same boat right now. Your child's teachers are strong professionals who will do everything in their power to make sure your kids receive a quality education.
And if you choose to continue homeschooling, please know that "behind" is very subjective. There is no "behind", there is only the pace at which your child learns. They will not acquire the entire collective knowledge of humanity by the time they turn 18.
2. How can I make sure they complete their work?
For parents suddenly doing "school at home" through their districts: you might have specified check-in times dictated by your school that you need to adhere to. Do your best, but acknowledge that slip-ups will happen. Kids forget things, the internet goes down, the technology doesn't work, you overslept, etc. etc.
Your teachers are keenly aware of the crisis too. We're all in the same boat here.
Whether you're homeschooling by force or by choice, the best thing you can do is to partner with your child(ren) to create a routine and system that works for your family. Ask them things like:
What work will you accomplish today?
What are you curious about?
When would you like to do specific tasks/assignments/subject areas?
How would you like to take breaks in between?
What would you like us to do together today?
What do you need (or NOT need) from me today?
How can I support you?
Write down all of their ideas even if you don't like them. Then work together to create a routine that might work for you and try it out. You might find that your first "routine" is a complete bust, or you might find it promising. Keep trying different things until you find a rhythm that works for you.
Work with your kids and their natural temperaments to find common ground. After all, your child may thrive with a set plan with times, but they might not. They may thrive with a specific homeschool-only desk, or they may enjoy the freedom to read outside. They might work best when they know what assignments need to be completed and have a timer, or it might work better when they have the freedom to choose their own intellectual pursuits.
You can see our daily routine here and grab the free template to create your own at the end of this post. 
3. What if I have to work from home while we homeschool?
I can relate because I also work from home while we homeschool! I have completely replaced my old income through blogging. Fortunately, I am my own boss so I don't have anyone I have to report to at specific times. However, with the crisis ongoing, my husband is now working from home and he DOES have to report at specific times for virtual meetings and online classes. There are specific ways we make it work, which you will see in a future post.
Include your work times in the routine you create together. Your kids need to understand that your work time is important and not to be interrupted. If your kids feel included in creating the daily routine it makes getting your work done so much easier.
As I write this post, my son is sitting next to me playing learning games on ABCMouse.com. Other times he's outside with the dog or playing LEGOs. There are many ways to work from home while homeschooling.
4. What if I feel unqualified to teach my child because I'm not a teacher?
Trust me: you are qualified. You were your child's first teacher! Without knowing it, you taught them to walk, talk, use a toilet, say please and thank you, and SO much more. You don't have to know everything there is to know in order to facilitate learning. After all, teachers don't know everything either! You would be surprised how much we Google.
The best homeschooling doesn't require much "teaching".
You don't have to be the "sage on the stage" to impart knowledge. The best learning often comes through interest-led discovery and application. Most homeschool parents aren't "teachers" as much as they are facilitators and partners in the learning experience.
I guide my child to know what information he can trust or not. That critical thinking we complain kids aren't learning to do? Homeschooling is a great way to learn that skill. Same for personal finance, home economics, and shop class.
I help him seek information, evaluate it, and apply it. We go down intellectual "rabbit holes" together. I find and provide resources that help him learn and grow. If I don't know something, we look it up together!
I don't lecture on how to do everything.
Teachers and administrators know that lecturing isn't the most effective kind of instruction. The best teacher evaluations happen when the students are actively engaged and in charge of their own learning. For that reason, most administrators and preservice teacher evaluators discourage "teacher talk".
Learning happens best when the students have full ownership of it.
I learned a lot from my years as a classroom educator about what good teaching is or isn't and trust me – you are well-equipped as a parent to help your child learn.
Bonus Worry #5: Socialization!!
I didn't include this in my original list because of the ongoing crisis. But if you are a new homeschooler and plan to continue homeschooling even once things return to normal, this is something that well-meaning friends and family ask about a LOT.
How do kids socialize if they're home all day? The short story is that we socialize in loads of fun ways with all kinds of people on a daily basis. At least, we socialize a lot under normal circumstances.
You can learn all about socialization in a future post.
———–
Homeschooling isn't for everyone. Some families really need and/or enjoy school. Others don't. Some kids need specific interventions, supports, and positive relationships with caring adults they may not get at home. But some kids do better learning at home in partnership with their parents. Whatever works for your family is great! Having a choice is great!
Homeschooling is what works for our family and I hope that you can make it work for your family too.
You can DO this! We'll make it through together.
Ready to learn more? Click here to learn all about getting started with homeschooling. Be sure to follow along for more homeschooling goodness on Instagram, Facebook, and Pinterest. I look forward to seeing you there!