I used to be a classroom educator. I come from a family of educators! I myself attended public school for all of my K-12 education. Most of my friends and family have their children in school, so I'm often asked the question:
Why would you want to homeschool?
Homeschooling is a deeply personal choice. You can read my entire story of how I came to absolutely love relaxed homeschooling/unschooling in this post.
But why would anyone consider homeschooling?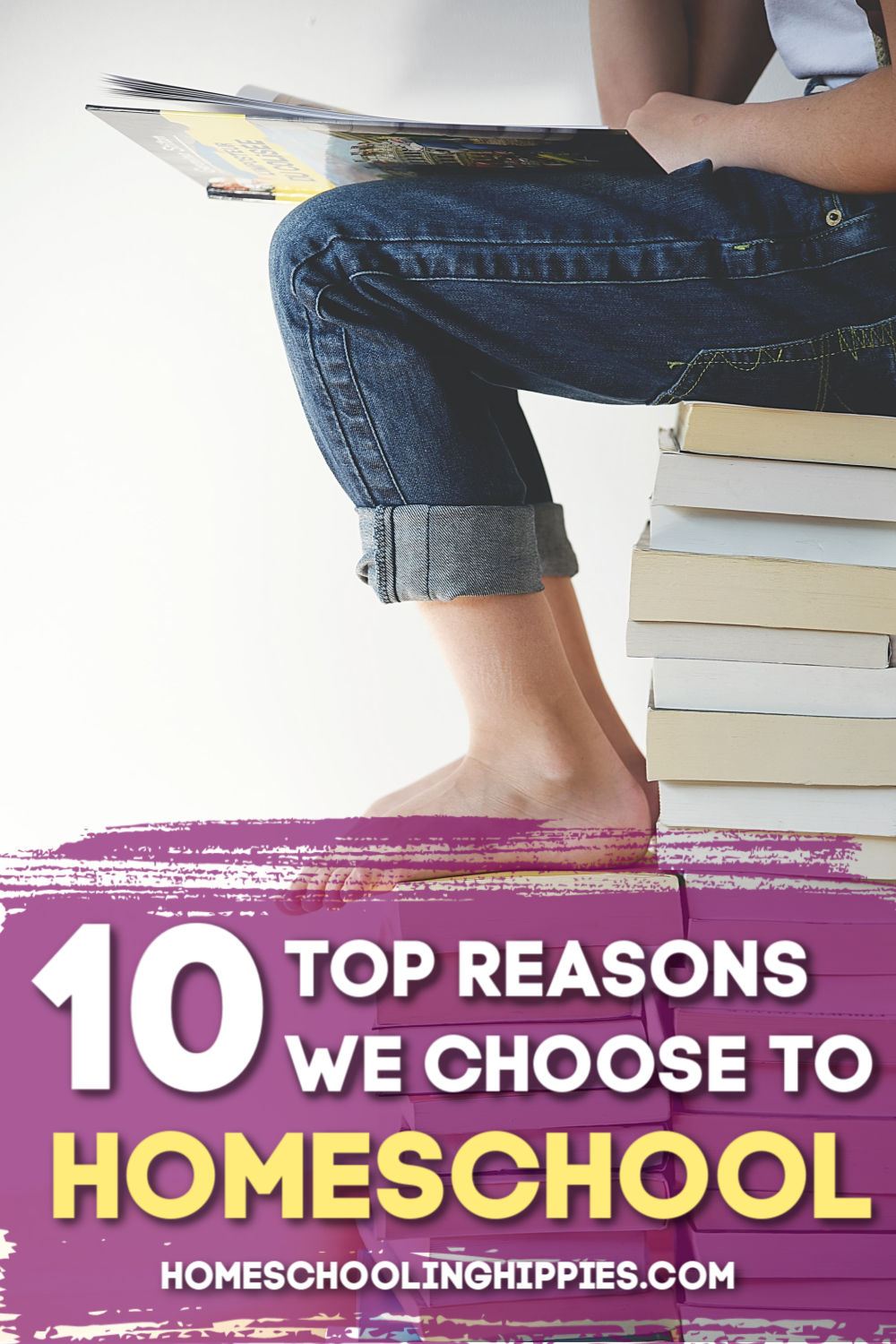 Our Top Ten Reasons to Homeschool
10. I don't have to deal with "school stuff".
My mom was the quintessential school mom. She was president of our PTA. She organized reading clubs and art days. Heck, she loved being there so much she eventually was hired as the office/library/computer lab assistant.
I can't say I inherited that same love. Don't get me wrong; I absolutely LOVE teaching and learning. But I am not the person to ask when you need a dozen cupcakes for a class party. I have no interest in waiting in the pickup/dropoff line and I have zero will to help my child figure out his wacky themed school spirit outfits.
9. We get to travel whenever we want.
Bear in mind, my husband still has a traditional job. But it's so nice to not have to triangulate two work schedules AND a school schedule just to be able to go on a mid-week campout.
8. We're available to help others.
My stepfather passed away very suddenly and unexpectedly in April 2019. In the aftermath, I devoted a ton of time to funeral planning, helping my mom at home, completing her home renovations and cleaning, helping her list her home for sale, moving her, helping her unpack, and numerous other tasks. Not to mention the emotional toll of everything, including helping my son through the complex grief of losing his Pop Pop.
The logistics of everything with school on top could have been a nightmare. There would have been multiple days of school missed, not to mention the pressure to keep up with his work while dealing with everything swirling around him.
Instead, we got to relax amid the chaos. Homeschooling was a way to keep us connected and centered. If we needed to take time to just cuddle and read a book, we could do that. If we needed to just watch a movie, we could. No pressure to perform. Just love. That's what homeschooling does for us.
7. We have ample time for free play.
This is HUGE for me. As a teacher, nothing burns me up more than watching legislators with no classroom experience take away recess and arts education in favor of additional math and reading time.
Free play is where children learn to make sense of the world. It's how they learn to cooperate and communicate with each other. They learn how to regulate themselves in free play. These are learning opportunities you can't replace with math worksheets. The loss of free play is associated with a host of issues including depression and anxiety. Children are just not made to be confined to desks all day.
Homeschooling lets us give our son his childhood back.
Related: "Free to Learn" by Peter Gray and other recommended books and resources!
6. We can play outdoors!
To go along with free play, getting outdoors has huge benefits for children and adults alike. It's part of the reason we sold our house in the suburbs and built a house in the middle of our 16 acres in the woods. To quote education pioneer Charlotte Mason:
"We are all meant to be naturalists, each in his own degree, and it is inexcusable to live in a world so full of the marvels of plant and animal life and to care for none of these things."
Climbing trees and playing in the mud works on proprioception and sensory regulation. Observing plants and animals in their natural state gives us an appreciation and understanding for the wonders of biology. What a better way to study the natural sciences than to encounter them in the world!
5. We have the freedom to learn in ways that fit the learner.
We get to seek information in the ways that meet our son right where he is for any given topic. Suddenly need to break out some math manipulatives? Sure! Want to go read a book outside under a shade tree? No problem! Rather practice handwriting with a glitter marker? You betcha! And if we need to course-correct, no one says we can't because "we have to keep up with the class schedule". We take the time we need to learn well.
Related: How to Start Homeschooling
4. We learn things that aren't taught in most schools.
You know all those memes that say things like, "Bring back shop class and home ec!" Or, "So glad I learned all about parallelograms instead of taxes in school. It's come in real handy this parallelogram season." We get to learn all about those things when we want to. It's beautiful.
We can also follow the unique passions of our child. We get to take "deep dives" into the content he finds truly fascinating. Often, we discover these interests are all interconnected with other parts of most standard school subjects. I'll give you a real and recent example:
My son takes karate because he saw it in Ninjago, a LEGO cartoon about teenage ninjas and their adventures. I'm not a huge fan of the show and certain aspects of it, but it piqued his interest so we followed it.
Interest in the show made him ask if he could take karate lessons. So we enrolled him in karate classes. He started learning about real forms and techniques and recognized them in his cartoon. We checked out books at the library all about martial arts, both fiction and non-fiction. We even found some beginning readers about karate that we fit into his reading lessons. He started asking questions like, "How did martial arts form?" So we found books, websites, and videos about the history of martial arts. He learned about Asia, countries like China, Japan, and Korea, and found them on maps and globes. He asked what happened to the samurai, so we went down a rabbit hole learning about the Meiji Restoration in Japan.
Maybe in high school he MIGHT get to study for a little while about Asian countries and their histories. Maybe in a class on World Civilization would he be exposed to concepts like the Meiji Restoration, but maybe not. I think I spent a whole week on the various Chinese dynasties in middle school social studies. Maybe.
Does he remember everything we found about the Meiji Restoration right now at the tender age of 6? No. But he is gaining exposure to new concepts and cultures. He's gaining an awareness of how our cultures and histories are connected. And mostly, he's learning how to be curious and find trustworthy information.
3. We aren't bound by arbitrary standards and testing.
I will say that I live in a state that doesn't require participation in annual state assessments. You may live in a state or province that requires your student to take exams or submit a year-end portfolio. But even if you do live in such a place, I could hope that you can still find the joy in learning apart from the standards assessments.
Assessments aren't really for the students to know where they stand academically. Most students never receive the full breakdown of what they got right or wrong, and they certainly never hear about WHY they missed what they did. Their teachers often receive much more detailed reports to help them guide changes in instruction, but test scores are never a full picture of the people in their classrooms.
I was one of those students who always scored in the 95th percentile on everything (except math, which was always in the 75-80 range). My high scores on everything but math became part of my narrative and identity. I was expected to be the smart one and I told myself I wasn't good at math. I was anxious to always perform to high standards. I'd grow depressed when I struggled academically. My physical health suffered due to the stress of the year I took 4 Advanced Placement classes.
I wrapped so much of my identity in my academic successes, but I've learned since then that those scores have absolutely no bearing on my humanity. So it goes for my son. So it should go for every other student.
Tests capture a moment in time. They do not paint an accurate picture of the unique learner behind the score.
2. We can experience failure as an important part of the learning process.
This goes along with number 3. I have a HARD TIME WITH FAILURE. I chalk that up to my anxiety over always being a perfect student. When I got B's I would sink so low. But did earning a B really say anything about my intellect or personhood? No.
I wish I had known about "growth mindset" growing up. I wonder how much might have been different had I known that failure helps you literally grow your brain. It helps create new neurons and strengthen synapses.
I listen to the Big Life Kids podcast with my son all the time. Big Life Journal is all about helping kids develop a "growth mindset", and I know my son is absorbing it because sometimes when he messes up he'll say, "Aww man! That didn't work! Now I know and I can try something new!"
Wow. What a difference from saying, "OMG I got that wrong. I messed it up. I'm so stupid. I'll never get it right."
Mistakes are an important part of the learning process in our house. But mostly…
1. We learn because learning is FUN!
We get to discover so many fun things! The world is vast. The universe is expansive. There is always something interesting for us to explore, and it's great because we get to do it TOGETHER. I think I've learned more as a homeschool parent than I did in half of my schooling.
We aren't learning because we ought to. We aren't learning because we'll get a gold star or blue ribbon. No, we learn because learning is fun! It feels good to acquire knowledge and use it in novel and interesting ways. To quote unschooling pioneer John Holt:
"We destroy the love of learning in children, which is so strong when they are small, by encouraging and compelling them to work for petty and contemptible rewards, gold stars, or papers marked 100 and tacked to the wall, or A's on report cards, or honor rolls, or dean's lists, or Phi Beta Kappa keys, in short, for the ignoble satisfaction of feeling that they are better than someone else."
I realize now how much I did those things when I was in school. That isn't the purpose of education. I do not want that kind of education for my child. I want one that is deep, rich, empowering, and full of love.
That's what homeschooling does for our family.
Ready to learn more? Click here to learn all about getting started with homeschooling. Be sure to follow along for more homeschooling goodness on Instagram, Facebook, and Pinterest. And be sure to subscribe below for homeschool encouragement plus access to our resource library. I look forward to seeing you there!
The form you have selected does not exist.